So, let's begin with a simple question, what is the meaning of IELTS? No, we think the better way to put this question is, what IELTS means to you? Google says IELTS 'full form is The International English Language Testing System and so on, but your mind knows well that IELTS is the only gateway to your study abroad dreams. Well, that's right and in order to do that all you need is solid preparation. These are 4 key ingredients that will help you ace on all four grounds (reading, writing, listening, and speaking)
Understanding the format
Learn the score requirements
Building specific skills with a routine
Practice (at least for 8 weeks before the exam)
General IELTS preparation tips
Get Familiar With Your Test – General or Academic Training?
Firstly, General and Academic are two different IELTS papers. The academic training is for international students willing to pursue their further education. Whereas the General training is for immigration and working professionals. Note: For both General and Academic speaking and listening tests will remain the same.
Know the IELTS format & grading process
No matter how fluent you are in English it really comes down to organizing and preparing what's more important and what's expected of you. So, generally, the IELTS exam is of 4 sections namely:
Listening
Reading
Writing
Speaking
The total duration of the exam is 2 hours and 45 minutes.
Here's the IELTS Exam Format For You…
IELTS Listening Test:
Comprises 4 sections and 40 questions in total. And the time duration is 30 minutes.
IELTS Reading Test:
Comprises 3 sections and 40 questions in total. And the time duration is 1 hour.
IELTS Writing Test:
Comprises of two tasks:
Reporting on data (you'll need to write a minimum of 150 words on the given chart, graph or process, etc.)
Essay (you'll need to write a minimum of 250 words) on a given topic
Complete the given taste in 1-hour duration
IELTS Speaking Test: 
You'll be speaking to the examiner for about 10 – 15 minutes to test your speaking skills overall.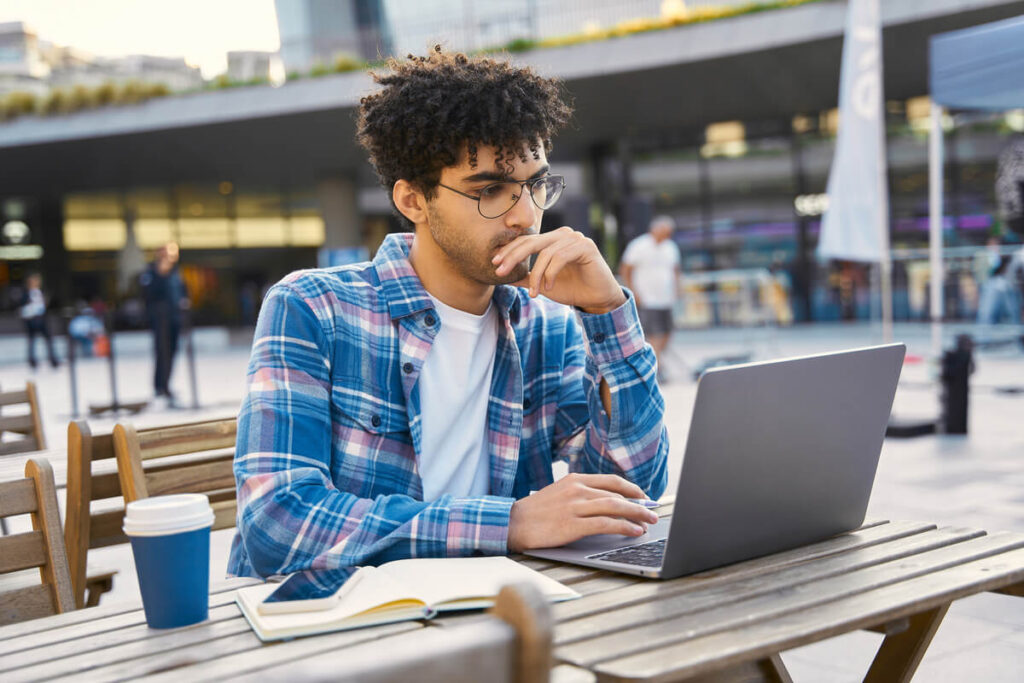 Now This Is How The Above Tests Are Scored:
You'll be graded on a 9-band scale (i.e. a score from 0-9) for examples 7, 7.5, and more
Note that you'll be scored to the nearest .5 meaning that if your overall score is 7.1 then you'll be graded 7, if you get a 6.25 then you'll be scored a 6.5 band.
Generally, the total test score becomes the average band of all four sections.
Note: You'll need a total of at least 6 bands to get accepted by most universities abroad
Further in the blog, you will learn how each particular section is graded based on what's mentioned in the above paragraph.
IELTS Band Score Explained
Grading Process In IELTS Listening Test:
All the 40 questions in the section will carry 1 mark (correct answer) each and your final score out of 40 will be converted to IELTS 9 band scale
And in case you are aiming for a:
Band 5: You'll need to get approx 16 out of 40
Band 6: You'll need approx 23
Band 7: You'll need approx 30
Band 8: You'll need approx 35
Band 9: You'll need 36+
Grading Process In IELTS Reading Test:
40 questions with each right answer carrying 1 mark
Your overall score out of 40 will be converted to the 9 band scale as like the reading test
The scoring format is the same as the above.
Grading Process In IELTS Writing Test:
The criteria of writing is a bit unique, writing is evaluated based on the below parameters:
Was the task fully complete? (Task Achievement)
Was the writing understandable overall? (Coherence & Cohesion)
How impressive and right was the vocabulary? (Lexical Resource)
How appropriate is the use of your Grammar (Grammatical Range & Accuracy)
For each of the above-mentioned criteria, you'll be given a score between 0 – 9
Now that you have learned the formatting and the scoring scheme of the exam let's learn some tips and strategies.
Best IELTS preparation tips
1. It's Crucial To Make An Early Start
We know that IELTS is not the hardest thing in the world, however, please note to get started as early as possible or at least 8 weeks before your test.
This 8-week window is much needed for any student (and they are from any level of English proficiency). One can identify their strengths, understand their weaknesses and so they'll have enough time to work on them.
Give at least 10 – 14 days to each section to prepare thoroughly.
2. Create A Realistic Study Routine
If we are honest, sticking to a routine is hard and that's the reason we always suggest an 8-week window to adjust and religiously get into the routine.
Ideally, begin with an hour or two each day for the first week and move it up slowly week by week
For the last week, we recommend slowing down the intensity, maybe spending an hour or two to fine-tune your skills, that's nothing much.
This cooling down period is 'tapering off' and it is much needed to in fact let your mind settle and relax before you give the exam
Take it slow and you'll enjoy the process
3. Invest in a good study guide
Getting into a routine is good but to frame that right mindset you'll have a good book, to begin with. We would say have at least one famous or bestselling guidebook to help you accelerate your preparation. A good guidebook boosts your confidence and keeps that fear away to an extent.
How to choose the right guidebook?
A good one will have example questions, answers with good explanations, hand tips, and strategies to enhance your skills. We know that finding the right book is a tedious and time taking process. So, lucky for you, we've written an entire article on the Top 18 best IELTS preparation books.
4. Complete practice tests and sample questions: 
The best way to get yourself perfectly prepared for the exam is to work through the sample question on a daily basis. Yes, give it a go, at least 10 – 15 of your daily 1-hour preparation. Although there's no replacing the mock exam. I mean, let's break this down in simple words, if you put yourself through the same pressure and limitations several times you won't be feeling a big pressure when you are giving your actual test. This practice should give you experience and help you polish skills where necessary. Do it every week or two and you are sure to notice a drastic improvement.
Now, let's learn some cool ways to ace your IELTS test by developing your skills for each section.
1. IELTS listening test tips
The best tip for IELTS listening is to practice note-taking, all the good listeners in the world do
You'll never miss an important piece of information if you do so
Develop the skill of keeping keyword notes meaning you only write the key details instead of the whole thing. For example, "My name is Sasha, I'm twenty-four years old and I'm from India" can be shortened to "Sasha, 30 IND." Later you can piece the information together and rest keep the other simple details logically in your head. This saves a ton of time and keeps the focus straight
Now these notes can be in any language that you prefer. And remember to gradually up the difficulty level if you see an improvement
2. IELTS reading test tips
Let's clear the logic here, well, you don't have to understand every single word written. Yes, we said it, but rather understand the meaning without understanding every word.
Let's take for example: Reading a newspaper in your native language, do you still understand every word that ever exists in your language? No, and yet the newspapers do use a high-level, complicated vocabulary so they have the best of your attention, but you still get the gist of the news article. Right? Exactly, now reading in the IELTS exam is kind of a similar situation. It deliberately contains tricky words. So, relax, and don't let those words trick you any further. Here's a tip for you. If you want to figure out the overall meaning of the sentence do follow these simple steps:
Read and understand the meaning of the other words in the sentence
How they are put together
The overall context
3. IELTS speaking test tips
Talk to yourself in the mirror because you won't be that hurt if you judge and correct yourself.
To master speaking any language is to speak it (or at least try it, it's okay to do it incorrectly because you are learning) and there's no better way than this.
Know that even native English speakers do make mistakes when speaking
No this is a bit odd but makes a huge difference, trust us. Start thinking in your head in English.
Thinning in your head in English will actually help you become comfortable with the language and gradually make you fluent.
Now when you memorize vocabulary don't memorize the complete answers as it is because if you do you'll fumble. Try to understand the meaning of words in the most logical way so that you remember and do not sound robotic
And lastly speaking is all about natural conversation, understanding, and effective communication not a game of memorization. Not that memorization is bad but too much will make it unnatural.
4. IELTS writing test tips
Practice timed writing. Yes, in writing time is the key, don't give a half-finished essay because that's too impressive. And that's why earlier we suggested you take a self-test with the same limitations as in the real exam. You'll eventually learn to manage the time when drafting a compelling essay that will make you stand out.
Here's how you can divide and write:
Use a couple of minutes to prepare your answer in your head first
Try to pen your thought as effectively for most of your time
And don't forget to take a couple of minutes to re-read and make any corrections