University President
As of the 9th of March, 2022, Faulkner University elected a new president in the name of Dennis Mitchell Henry, J.D. This was done after the former president; Mike Williams announced his decision to step down on the 6th of May, 2022.
In his speech, the new president spoke about the institution's dedication to creating vocational ministers who spread love and Christianity in their work. He spoke about their efforts to help young people to identify careers where they can serve the greater good, the gospel of Jesus Christ.
About Faulkner University
Located in Montgomery, Alabama, Faulkner University is a private, Christian liberal arts university with a mission to provide an education based on intellect and developing the character of the student. The Faulkner institution aims to improve the whole person.
Founded in 1942, Faulkner University focuses on providing quality education to people from all walks of life. With this intent, 96% of the student population receives financial aid from the institution which enables them to educate even those that can't afford it.
Mission and Vision
The mission of this institution is to glorify God through education of the whole person, emphasizing integrity of character in a caring, Christian environment where every individual matters every day.
Faulkner University is committed to providing a nurturing and challenging environment that encourages students to thrive not only academically but also socially and spiritually.
Programs
Other than the conventional traditional classes, Faulkner University offers the option of receiving online education. Their online degree programs allow students to balance personal and professional responsibilities while receiving quality education.
Furthermore, their online programs are rooted in Christian ideals and cover a wide range of subject matter. Faulkner University offers fair tuition rates for their online programs, ranging from the associate to the doctorate degrees. This allows the student to have a rewarding career that aligns with their goals.
Faulkner University offers a wide range of online programs that are as follows:
Associate Degrees
Associate of Arts or Science in Liberal Arts
Associate of Science in Computer and Information Science
Bachelor Degrees
Bachelor of Arts in Biblical Studies
Bachelor of Arts in Humanities
Bachelor of Science in Business
Bachelor of Science in Counseling Psychology
Bachelor of Science in Criminal Justice
Bachelor of Science in Forensic Psychology
Bachelor of Science in General/Clinical Psychology
Bachelor of Science in Health and Rehabilitation Psychology
Bachelor of Science in Human Resource Management
Bachelor of Science in Sports Psychology
Masters Degrees
Executive Master of Business Administration (MBA)
Master of Science in Management
Master of Arts (Biblical Studies)
Master of Arts in Humanities
Master of Education in Curriculum and Instruction
Master of Education in Elementary Education
Master of Education School Counseling
Master of Education Alternative A
Master of Justice Administration
Master of Science in Clinical Mental Health Counseling
Doctorate Degrees
Doctor of Philosophy in Biblical Studies
Doctor of Philosophy in Humanities
Doctor of Philosophy in Health Sciences (PhD HS)
Taking part in Faulkner's online programs has a number of great advantages that the institution outlines as follows:
Allows the student to create flexible schedules where they can attend to their other responsibilities.
Online programs can be completed faster than the on-campus alternatives.
Their tuition rates are fair enough to fit the budgets of many aspiring students.
Campus visits are rarely required although some programs may require some appearances on campus.
Students can choose their wide variety of subjects; from biblical studies to justice administration.
Curricular Practical Training
As you learn, apply for this off-campus work/internship that is directly tied to your program of study. It is not available after the student completes their respective degree program. Here are a few pointers to help you understand:
Graduate students can request CPT in their first semester of enrollment, it is an integral part of the student's graduate studies.
There is no limit to the number of months a student utilizes part-time CPT.
If a student completes 12 months (11 months and 29 days) or more of full-time CPT, he or she will not be eligible for Optional Practical Training (OPT). It is the student's responsibility to keep track of the number of months he or she has participated in CPT.
Any student who wishes to participate in CPT must be enrolled in the executive format of their respective program. All assignments included in the course must be completed in order to maintain compliance with the CPT process and pass the course.
Student must have an approved CPT application before participating in employment
Here is all you need to know about CPT and how to apply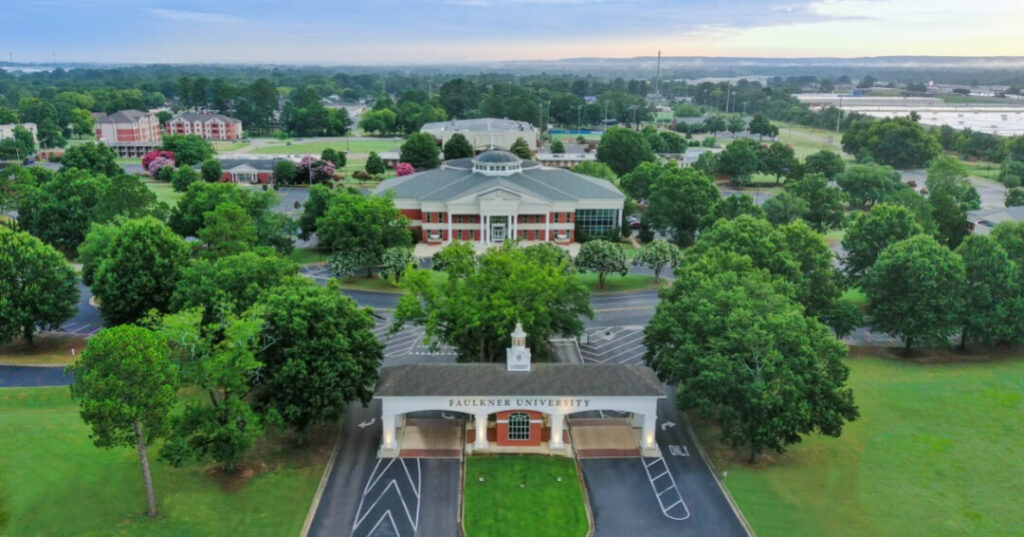 Tuition and Fees
Faulkner University is committed to providing quality and affordable education to its students. The average cost of tuition for the institution is $16,000 and the average cost of food and accommodation is $10,000. Here are options offered by the institution:
Summer 2022 – Spring 2023
ADULT/NON-TRADITIONAL
Tuition
| | |
| --- | --- |
| Adult Montgomery Campus | $325 per semester hour |
| Adult/AA Birmingham | $310 per semester hour |
| Adult/AA Huntsville Campus | $155 per semester hour |
| Adult/AA Mobile Campus | $325 per semester hour |
| EBCJ program | $335 per semester hour |
| BLS Program | $335 per semester hour |
| BSB Program | $320 per semester hour |
| HRM Program | $360 per semester hour |
| General Fee | $350 per semester hour ($250 if 11 hours or less) |
| Online Course Fee | $70 per semester hour |
GRADUATE/PhD PROGRAMS
Tuition
| | |
| --- | --- |
| Master of Arts in Biblical Studies | $555 per semester hour |
| Master of Arts in Christian Counseling/ Family Ministry | $555 per semester hour |
| Master of Arts in Christian Ministry | $555 per semester hour |
| Master of Arts in Family Life Ministry | $555 per semester hour |
| Master of Arts in Humanities | $475 per semester hour |
| Master of Business Administration | $570 per semester hour |
| Master of Education | $475 per semester hour |
| Master of Science in Counseling | $555 per semester hour |
| Master of Science in Justice Administration | $555 per semester hour |
| Master of Science in Management-One year program | $545 per semester hour |
| PhD in Biblical Studies | $575 per semester hour |
| PhD in Health Sciences | $780 per semester hour |
| PhD in Humanities | $650 per semester hour |
| General Fee | $350 per semester hour ($250 if 5 hours or less) |
| Online Course Fee (for fully online course) | $70 per semester hour |
Here is what will cost an average international student for an academic year.
Scholarships and aid
International students are encouraged to apply for financial aid early since the awarded slots are always limited.
Faulkner University offers a number of scholarship options. These scholarships are awarded for one academic year. Any renewal is dependent on current funding levels and impressive academic progress. These scholarships include:
Academic Scholarship
Dean's Scholarship applies to:
Freshmen international applicants from English speaking countries only
ACT composite scores of 23 to 36 (SAT 590-2400)
Freshmen International applicants from non-English speaking countries with outstanding academic records may be considered for academic scholarships based upon high school transcripts certified by Lisano International or World Educational Services.
Athletic Scholarship
Students interested in athletic scholarships should contact the coach directly:
Faulkner University offers an alternative for students who didn't qualify for either academic or athletic scholarships. As an international student, you can apply for a work-study program. This program allows for International students to work on campus and earn up to $2,500 per year.
Student Life
Fitting in Faulkner University should be the least of any worries for the new students. The institution boasts a variety of over 30 student organizations, a number of fun sporting activities, 10 athletic teams, bands, choirs and many on-campus venues for socializing and relaxing with your friends.
Faulkner University offers on-campus accommodation for full-time, traditional and single students. Faulkner University also offers several meal plan options for students. Furthermore, students who reside in the school dormitory are required to acquire a meal plan. The university's food services are managed by Culinary Management Solutions which also caters university events.
Additionally, Faulkner offers a unique program called "Study Abroad" where students study in Tuscany from January to April. This program is open to all majors. It costs $6500 (this does not include tuition, room and board). A non-refundable $500 deposit is required to secure a slot. To learn more about the Study Abroad program click here.
Faulkner University also offers services dubbed "The Multiplex". Called The Freeman- Harrison Student Multiplex, it's a facility where students, staff and faculty can come and take advantage of the following amenities:
Fitness Center: Cardio and weight machines
Basketball Courts
Walking Track (located on the third floor): 1/14 mile length
The Nest includes:
Game Room: pool, ping pong, and hoops
Commuter Student Lounge
The Cinema: small theater with 22 theater lounge chairs
this room must be reserved through studentlife@faulkner.edu
Men and Women's locker rooms
Racquetball Courts
The Grille is open during the fall and spring semester. The Grille offers burgers, fries, wraps and lots of other delicious snacks. The Grille also accepts Eagle bucks.
Cultural Diversity
Faulkner University wholeheartedly welcomes international students into their traditional program. They have many international students who have made themselves comfortable in the Faulkner environment and are getting good and quality education.
Getting to know Alabama
Going to a new university, especially if you're not a resident of the area, can be a really hefty task. However, studying in Faulkner University is not only good for advancing your career, but also provides a cozy and bearable environment. For those that won't opt for university accommodation, it's good to know that Alabama has some of the country's most affordable home prices.
Like many Southern states, Alabama is known for its barbeque, with some of the local favorites being Fried Green Tomatoes, Classic Southern Smothered Pork Chops, Collard Greens, Fried Chicken, Shrimp and Grits, and Tomato Pie.
If you're interested in advancing your career in an international university, then Faulkner University is the place to be.