Let's admit that, neither you nor your parents want to see your efforts going in vain. Yes, we are talking about studying in the USA, dreaming big, great efforts yet the results come out otherwise.
There's a good possibility you might have heard it from a friend or friends of friends that they couldn't get through the USA visa application process. Don't panic! Soon enough you'll have all information as to why students can't make it in the USA and how you don't have to be one of them.
First, know that chaos is for sure, and amidst all that you will need professional assistance to teach you the whats, hows, and what not with a plan (The bare minimum as we always say). Unfortunately, not many students follow these and are costing them, big time. That's where this blog will be your guiding light to help you with the best of our knowledge.
The competition is true and is big!
A recent report by Statista shows that there are around 948,519 international students studying in the US (2021 – 2022) and these numbers will potentially go up in 2023. The US application process is highly competitive; literally, thousands of qualified applicants from across the world compete for a limited number of spots. Therefore, early becomes essential before you put the plan on the pedestal. Of course, there is a process, your preferences, preparation, and a whole to make your application stand out but first comes choosing the right platform and to do it soon.
The key is the process…
Well, a random Ad on Instagram may say it is easy, and so many get things done quickly about the US application, don't they? On the contrary, applying to universities in the states is a pretty daunting process, to say the least. The time it takes to get admission in the USA universities is months at a stretch.
The university application process concerns several steps and requirements, including standardized tests (Like the GRE, GMAT, LSAT, and MCAT), academic transcripts, letters of recommendation, and personal essays. With so many components and prerequisites to regard, it can easily overwhelm you. So, the immediate thing to do is to relax and talk to us, experts.
Wait, the USA is unique…
Now, read this one carefully. It's fundamental to understand the unique characteristics of the US higher education system. Unlike in other countries, American universities typically present a broad range of courses, allowing students to explore various subjects before professing a major.
So, not having a clear mind on what major you want to proceed with is just fine.
Also, the US has a significant force on extracurricular activities and community service, which by the way can be just as important as academic achievements (especially in the admissions process). It will be a smart move to make sure you participate in any of the above-mentioned activities.
Let's get you quickly familiarized with our system
Well done, you now know what it's like to study in the USA. So, let's get into the bigger picture, the process. By following the steps outlined in this blog and putting in good time and energy, you can boost your chances of acceptance into the university of your dreams.
Register With University HUB
This is about us…
We, the University HUB, navigate the most complex world of higher education, the study abroad arena. And out of all, we must say the USA visa application process is often a complicated one. Having said that, we have fully mastered the ways to get you on board with your US dreams quickly and without a hassle. We are a specialized team of study abroad experts and advisors who are highly knowledgeable in different universities and courses that are known to date. We can rightly help you with the application process, fulfilling the application requirements, visa, and other considerations that may be relevant to the process.
You can register with us for free. Once you register, we will provide you with thorough resources. Our recommendations will help you to find the right university and course that suits your aspirations. As an organization that works with major universities across the US, you'll never feel short of great options. University HUB is well-equipped to offer expert advice and guidance to students at all stages of the application process.
One of the main benefits of registering with a University HUB is the personalized support, we are quite known for it. Our guidance is niched, focused on your needs, and acknowledges all your hurdles.
In addition to helping you in all the ways mentioned above our expert advisors will also direct you on a range of topics related to higher education. For instance, we will advise you on the various financial aids that are open, guide you on how to write a powerful personal statement, how to obtain strong recommendation letters, and much more.
All in all, we are packed with the help you need to get down to the business. We support thousands of students day in and day out to get closer to their higher education dreams. So register now to follow the further steps.
Choose A University Or A Course
Don't know where to start when it comes to choosing the university or course of study? You're not alone! We found out that this stage of decision-making is stressful for many students but it won't be that way if you are with us.
Whether you are an unsure high schooler, or a working professional considering going back to school or pursuing a new career, University HUB can help anyone get started even from the point of nowhere. Here, we aim to help you make informed decisions that you'll be proud of. Hence, we assist you to choose the right course and the best university for yourself.
To begin with, our professionals identify your interests, learn your goals and then use this information to recommend universities and courses that will be a perfect match for you. At the same time, we emphasize reflecting on your strengths, weaknesses, and overall career aspirations, as well. This process also involves considering different factors like location, course offerings, extracurricular activities, campus, and culture.
Once you are ready with a firm decision we will give the full guidance on the necessary academic background required for successful enrollment. Elaborating more, this step can also involve standardized tests such as the SAT or ACT. If required we also guide you with the application essays and personal statements.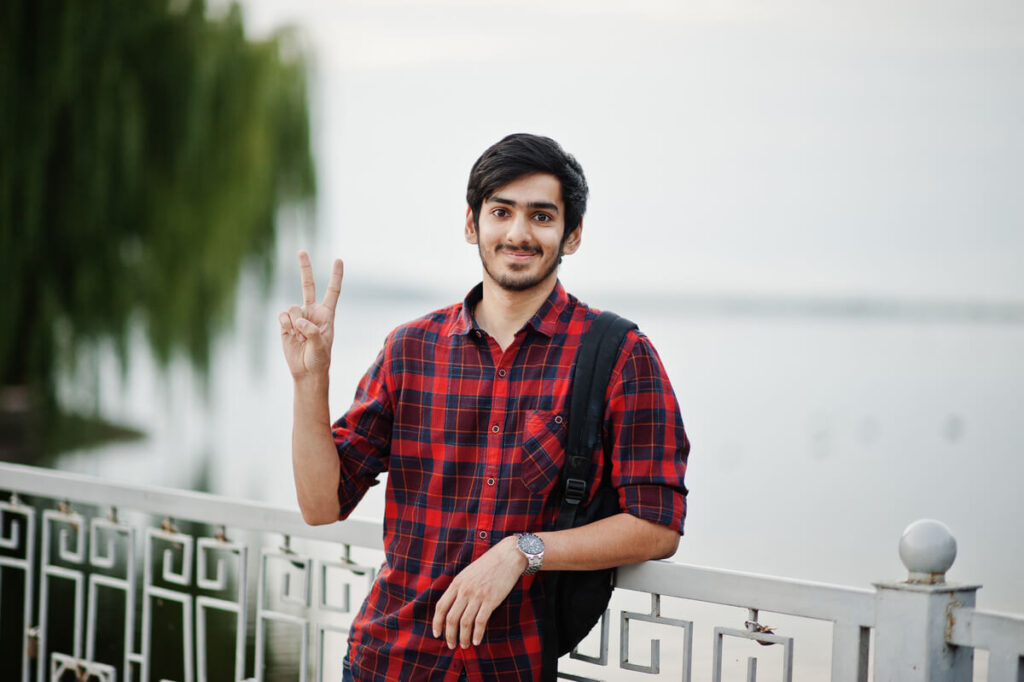 Complete Personal Information
We would require you to maintain a centralized word document that has all your details including your education, residential address, family details, and more if assisted by our experts. Why is this needed? This document can serve as a handy reference as the USA visa application process mandates you to provide certain personal details.
When time is money, not every time it's that you sit and search for a document that's urgent on the table. Keep a note that when creating this document, you only provide accurate and up-to-date information about yourself, like your full name, contact information, educational background, relevant achievements or awards, and relevant work experience.
Official Transcripts/Certificates
Your official transcripts of academic performance are a must. They are like a window that provides the most basic information about yourself in terms of academics. These transcripts can be used for a variety of purposes, such as applying for internships/jobs, further education (obvious in this case), or immigration.
In order to fetch official transcripts, students typically need to apply directly to their university or college (Nowadays it's mostly online be sure to check if there's such availability). This may involve filling out an application form and paying a fee, and it may take several weeks for the transcript to be processed and sent out.
Do make sure you get them as soon as possible!
Statement of Purpose (SOP)
Again, it's highly competitive to get admission in the USA universities just to ensure the institutions accept genuine students they require applicants to submit a statement of purpose (SOP) with their application. It's a written essay that defines your academic, and personal background, career goals, and reasons to join the university for the selected course/program.
Perhaps drafting an impactful SOP can be challenging as many students are unfamiliar with the format and expectations of American universities at this point. That's where our expert advisors come in. We can guide how to structure and write a compelling SOP that showcases your strengths, interests, and motivations.
3 Professional Reference Letters
Reference letters (also called recommendation letters) are vital as the university application process in the US requires you to provide more than one. What are they and how do they help in the selection process? These letters give insights into your academic and personal strengths, to be precise they give a gist of you from the perspective of someone who you have worked closely with.
If you are a college student seeking a reference letter, it's crucial to start identifying potential recommenders, early on. They can be your professors, academic advisors, or other college staff members who know you well and can speak about your abilities and accomplishments. A few good ways we guide you to reach out is to approach them in person or via email to ask if they would be willing to provide a reference letter for you.
Financial Statement (BANK STATEMENT)
It is typical for one to demonstrate that they have enough money to support themselves during their learning in the USA. Here your bank statement must reflect a minimum balance of USD 21,500 or its equivalent in another currency. And this statement shouldn't be any older than six months from the start of your course in the US.
In case you can't provide that, you're advised to use the sponsorship like your relatives, brother, uncle, or aunt. If you choose so then you'll have to fill out an Affidavit of support. For that matter keep your documents up-to-date and keep the funds available during your application.
Updated Resume
Next comes an updated resume following the US standards. Our experts are valuable resources to you every step of the way and be ahead of the game. Our advisors are trained professionals who can guide the best formats and content for your resume, based on your academic and professional background. By working with an Expert Advisor, you can ensure that your resume meets US standards and effectively showcases your qualifications and experiences to potential employers. This can increase your chances of securing job interviews and ultimately, job offers in the US.
Education Evaluation From NACES Approved Bodies
In case you completed your studies outside of the United States and are aiming for employment or further education in the US, it is advised to have your educational certificates evaluated by NACES (National Association of Credential Evaluation Services) approved organizations.
Now, this process will determine the equivalency of your foreign education to that of US education standards. There are approximately 19 NACES-approved organizations at the moment that provide this service. At the same time, our expert advisors will recommend some of the best organizations after analyzing your needs. This evaluation report should provide potential employers or educational institutions once we come to a better understanding of your qualifications. Following this will help you avoid having to retake courses or exams.
English Proficiency Scores
Non-native English speakers watch out for this. You'll need to verify your proficiency in English by submitting scores for tests like IELTS (6.0 Overall), TOEFL, or Pearson. These scores are further used to evaluate the level of your understanding and proficiency in the English language (To state the obvious US is an English-speaking country so proficiency is anyhow must).
If you're in a state of confusion as to which test to go for or which test scores to submit our expert advisors are here to help you. With their assistance, you'll be able to pick the appropriate test for yourself. At last, it is much needed to demonstrate your efficiency in English and only then you will have a greater chance of being accepted to your desired university.
GRE or GMAT Scores
Many universities in the US require international students to submit scores for these tests. However, if you have a degree from a regionally accredited college or university with a minimum GPA of 3.0, or if you have a Master's degree, you may be exempted.
To qualify for this waiver, you will need to check whether your college or university is accredited by a recognized accreditation agency. Additionally, some universities may waive the requirement if you have completed at least 6 credit hours of graduate work in one term or semester with a GPA of 3.0 or better from a regionally or nationally accredited college or university.
Note: It's important to note that each university has its own policies and requirements to get thorough guidance on the same consult our experts or the institution directly.
PASSPORT
All you need to do here is a copy of your current Passport both the front and back page.
Application Fee
It's not uncommon for universities in the United States to charge application fees to students. The application fee levied varies from one university to another but it falls within the range of $50 to $80. The amount charged will cover the administrative costs associated with processing the application, such as reviewing transcripts, test scores, and essays, and conducting interviews if necessary.
Some universities also don't charge any amount to students who indicate financial need. Again, these cost specifications will further be discussed while interacting with our experts. So, don't forget to ask.
Accept Your Offer
After learning how to apply for a university in the US and submitting your application you may receive either of these, conditional or unconditional offers. If you receive an unconditional offer, congratulations, that means you have met all of the university's admission requirements. Further, you are free to accept the offer, later pay the fees, and apply for a visa if you haven't.
On the other hand, if you receive a conditional offer, then this might mean that you still need to fulfill certain requirements. There are several conditional offer instances for example achieving a minimum percentage in your high school or undergraduate studies, obtaining a minimum score on an English proficiency test like IELTS, or it may even directing you to pay a deposit towards your course fees. Once you have met the outlined conditions in the offer, you will be able to accept the offer, pay the required fees, and apply for a visa.
It's paramount to note that the prerequisites for a conditional offer will vary depending on the university and the program you have applied to. Our expert advisors can help you understand the conditions and provide solution-based guidance so you meet the requirements to secure your admission to the university.
Pay Your Fees
As stated earlier you as an international student need certainly demonstrate that you have sufficient funds to cover the costs of your education and living expenses. There are 2 ways you can do this, one is to pay the full tuition fees, second is to deposit your tuition fees to receive form I-20.
The Form I-20 certifies that you are being admitted to a full-time study program and you have financially secured to go by yourself in the US. Form I-20 is issued by a US government-approved educational institution. This is particularly required for all F and M students who are studying in the United States and is used to apply for a student visa or to maintain legal status while in the United States.
To get access to Form I-20, you must first be accepted into a Student and Exchange Visitor Program (SEVP) certified school. Later, you'll need to work with your Designated School Official (DSO) to obtain the necessary documentation. Your DSO will assist you with all the detailed instructions on how to complete the application process and what documents you will need to submit to receive your Form I-20.
Note: Carefully review the requirements for obtaining a Form I-20 and work closely with your DSO to ensure that you provide all necessary documentation and meet all deadlines. Our Expert Advisors can also help guide you through this process and answer any questions you may have.
Apply For A VISA
Once you receive the Form I-20, you can immediately apply for the Student Visa without any further ado. Our Expert Advisors are available to assist you with the visa application process and can provide you with detailed guidance on the required documentation, fees, and procedures. Simply select a convenient time on the calendar, and we will connect you with one of our experts to help you through the process.
Get Ready To Start Your New Journey
On successfully obtaining your student visa, you can begin preparing for your travel and accommodation plans happily. Our expert advisors are available to assist you with all questions and concerns you have about your travel or finding convenient housing near your university.
We understand that the process of relocating to a new country can be exciting and stressful at the same time, so, we are here to support you every step of the way. Simply let us know how we can assist you, and we will do our best to ensure that you have a smooth and stress-free transition into your new life as an international student in the United States.
And finally, job well done, today you have learned how to apply for admission in the USA universities, the whole process, where you would need professional help, and what documents you need to have. Remember to be part of the right process and indulge with the right experts. Always seek help when needed, watch out, and be careful.