Now that you're here, would it be overly bold to assume that you already know what STEM is? Anyway, just in case you don't have sufficient insight into STEM courses and what they are, we did an extensive article on them here.
With that said, this particular article is geared toward highlighting the benefits of pursuing STEM courses in the US.
Getting right into it, what benefits will you be looking at as you study STEM courses in the US?
Benefits of STEM Courses in the US
1. Develop Global Readiness
The USA is a mighty economy wielding unfathomable power across the world. Fortunately for you, it takes a lot for the US to remain on top.
For this reason, the US education system garners top-of-the-range intellectuals to fan innovation, global readiness, and ground breaking research. If you are an ardent follower of the US news on STEM matters, you will realize the government is ever-increasing the STEM budget to boost technology and attract more STEM students. For instance, did you know President Obama had promised 1 million more STEM graduates? Old news yes, but this is how important STEM is to the US.
Therefore, studying STEM in the USA will expose you to the best of everything. You will have the time and resources to satisfy your intellectual curiosity, develop world-class communication skills and adaptability, and gain courage through exposure to take initiatives and break away from the pack. Afterwards, you'll be prepared to make a global impact by serving national interests or creating your own startup.
2. Top Paying Jobs Worldwide
A STEM degree from the US is well-recognized and appreciated all over the world. Afterall, all the top universities are found in the US. So, having a US STEM degree means the world is a buffet and you can literally choose where to work and live.
Plus, you can be sure that a well-earned US STEM degree will attract generous remuneration. So, you are assured of a comfortable life too.
Here is a general layout of the STEM remuneration per year.
| | | |
| --- | --- | --- |
| Highest Average STEM Annual Pay | | |
| Computers/Information Systems Managers | $162,930 | $50,550 |
| Architectural/Engineering Manager | $158,970 | $49,810 |
| Natural Sciences Managers | $156,110 | $47,870 |
| Physicists | $151,580 | $44,850 |
| Petroleum engineers | $145,720 | $43,420 |
3. Access to Silicon Valley and Silicon Valley people
Silicon Valley is the global innovation and technology centre. Everyone who is looking at a rock-solid career in innovation and technology would benefit from uninterrupted access to Silicon Valley.
US STEM students are spoilt for choice when it comes to opportunities in the Silicon Valley not just because of the proximity but also because Silicon Valley is constantly looking for STEM talent to mentor, inspire, and hire.
As a US STEM student, you will have the privilege to interact with the brilliant Silicon Valley minds and see for yourself levels of innovation you'd definitely never have seen elsewhere.
4. STEM Courses are Mutually Beneficial to the US
Did you know that students studying STEM courses have special provisions for applying for immigrant status? It's true!
As a superpower, the US recognizes the value of STEM talent. So, through the Department of Homeland Security, they constantly update the list of STEM courses eligible for OPT to attract more STEM students.
STEM students can stay in the US for an additional 36 months after their studies working in their field of study.
Also, if you excel in STEM, you can use what is referred to as a national interest waiver to apply for an employment-based immigrant visa. As a result, you will be an advanced degree professional noncitizen or a noncitizen of exceptional ability.
5. STEM Job Growth Index
Growth and relevance in STEM related jobs is the highest ever. More so because the globe faced a multiyear COVID-19 pandemic during which STEM professionals played a critical role of helping to counter the adverse effects of the pandemic.
As a result, the US Bureau of Labour Statistics foresees over a million more STEM jobs on offer all through the 2020s. This translates to 11% growth – 3% more than all the other industries.
To put STEM job growth into perspective, in the decade between 2005-2015 STEM employment grew by around 25% which was 20% more than non-STEM employment.
Finally, you'll be glad to know that during the 2020 economic shakedown unemployment in STEM jobs stood at 9% while unemployment for non-STEM jobs went up to 16%. This means that STEM jobs are more resistant to economic melt-downs than non-STEM jobs.
6. Diversity in the STEM Workforce
STEM Courses translate to hundreds of different job titles. This is because STEM employment has grown 79% since 1990. Information and technology jobs especially grew by 338%.
Still, over 40,000 STEM jobs vacancies remain vacant every year.
As you can see, there are many opportunities to be had in STEM-related fields. The demand for highly qualified STEM professionals means factors such as race, gender, physical ability, and ethnicity don't hold much water.
50% of all US STEM workers are women while 17% of college-educated STEM workers are Asian.
These numbers clearly show that as long as you excel in a STEM course you are very employable irregardless of who you are.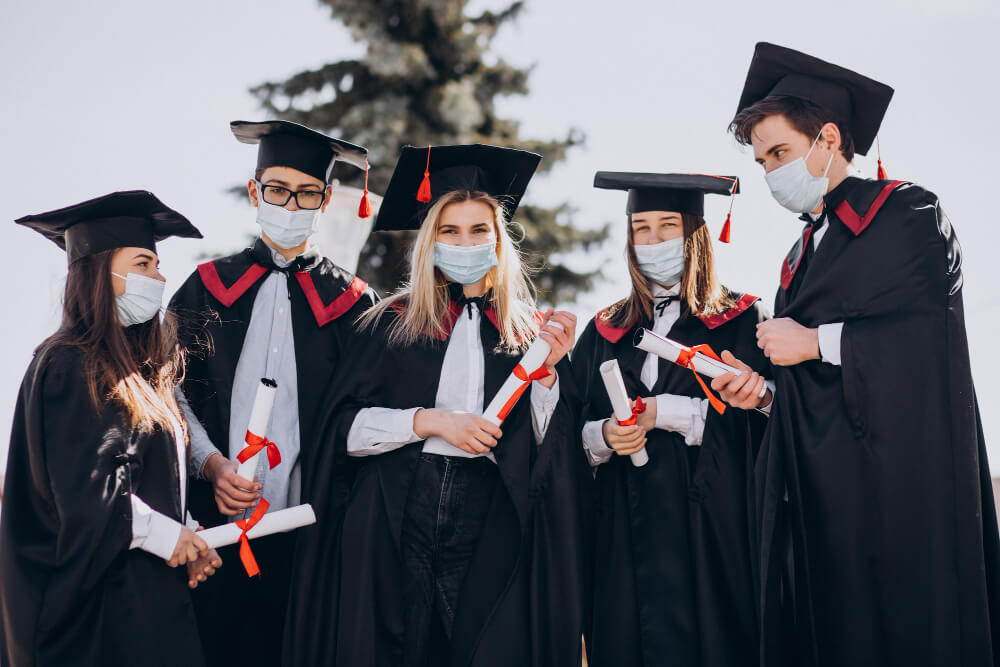 Final Thoughts
These are just a sample of the benefits of pursuing STEM courses in the US. And the best part is that they are all within your reach. We are in partnership with several top universities in the USA that offer STEM programs. If you need guidance on how to access STEM programs in the US get in touch with us.