Around 5 million (and counting) students globally got enrolled for study abroad in 2021. That's just wow!, But your whoa of study abroad in specific brings us here, to yet another country that's famous, cheering, and vitalizing for so many students internationally—Canada a super study destination nation. Okay, but why does it matter if you are going to the US, the UK, France, or Canada? Does the country you study in correlate to what your future would look like? We say yes, and today we would like to give 7 good reasons why choose Canada for studying abroad.
Canada is one of those up-and-coming countries. You surely want to achieve your dreams being in a good place, and it becomes a little easy with some good support (Canada offers that indeed). Their rich multicultural environment, people's epic livelihood, and supportive education system are just calling for more and more attention in recent times. And interestingly, so many students, literally so many students, love Canada. If you are one of them, you'll undoubtedly find this article interesting and informative. You might still have some doubts or lack a sense of good decision-making; let's clear that for you. So, hopefully, you can make a solid decision at the end of this article.
1. The good vibes of a multicultural environment
This is for sure everyone's favorite. Believe it or not, but you go abroad because you need exposure, including people and culture. This aspect of study abroad really excites everyone. No.1, it's an entirely new journey with different people who speak other languages, no.2 and most thrillingly, you get to make friends with them. Canada exactly has that multicultural environment as students come from different parts of the world.
That doesn't end here; you can learn about their cultures, traditions, food, clothing, etc. Etc.
This will help enhance your communication skills in English, French, German, or any other language. It will, directly and indirectly, help you build a network (because our network is our net worth, and it's essential). As an integral part, the Canadian educational system also offers coursework in languages like French and English.
Such an environment gets everyone involved. The more you involve, the better the knowledge delivery is. So, one can not resist such a vibing environment but to love, enjoy and learn. Because in the end, cultural knowledge is more invaluable than bookish knowledge. Learning culture means learning so many things, and you can't feel it until you experience it.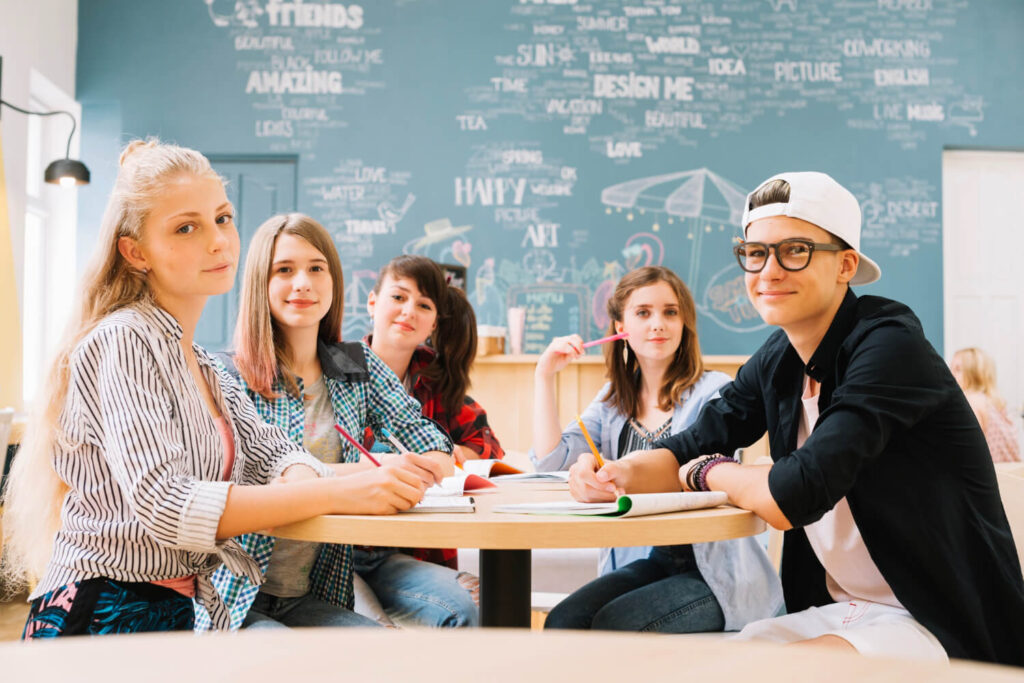 2. The benefit of Top-notch education
And most of us want it!
When you have something, world-class people will and surely talk about you. From a study point of view, Canada, without a doubt, is in a bright place thanks to its first-class education. Be it education inside of the country or outside of the country. We all need quality education. Many of us strive to get it no matter how much it costs, regardless of what county it is, and not hesitant about it at all. This is another reason people take off to top counties, and Canada is a developed country that's doing its best.
Next, a degree, diploma, master's degree, or any other program from a Canadian Institute is highly respected as the US one. This means wherever you go globally with a study certificate from Canada; you are most likely to be well considered. Compellingly, the Canadian educational system provides a cross-disciplinary education, technology knowledge, digital media use, and the development of transferable skills like communication, teamwork, critical thinking, and more. Canadian education system offers world-class classrooms and teaching equipped with excellent technology. This approach of education provides students the right exposure that they need to nurture their skills.
3. Work opportunities
Students tend to put career over everything, and that, of course, is stressful. And we consider it the most nerve-wracking situation almost all the time for a student. Whether it's self-employment or a corporate job, everyone needs one to feel future secure and confident. Now being an international student, it might bother you even more. It's so normal to expect higher when you move to another country, spending so much money and time, especially from a career perspective. In the above paragraph, we have discussed how you can benefit from the global recognition of doing a degree from Canada that would be incomplete if you don't use it wisely.
That means obtaining the right set of skills during college—participation in events, workshops, taking up additional online or offline training, and more. Building a professional network plays a vital role in helping you find a decent job or start your business post your graduation.
Thankfully the Canadian government also provides the students' employment opportunities after graduation to keep them in the country itself. The international students can stay in the country for multiple years post their graduation. Likewise, if you wish, you can prep, work, and plan to stay in Canada as long as you want with this work program in Canada.
4. The sass of the tech in Canada
Who doesn't love the tech? We mean, who wouldn't! Everyone wants to stay connected, have some entertainment, save time and effort; well, tech is a great way to do so. Tech decides many factors of a country (like the people's lifestyle, and more). But, It is also found that tech advancement in the country impacts its students' education too. According to Canadian Internet Registration Authority, around 90% of Canada's population has internet connectivity, so they are super connected. Industries like digital media, gaming, aeronautical engineering, telecommunications are super fine in Canada.
Some fun facts, Canada is the first-ever country to connect its schools with the internet through a program called the Innovative SchoolNet Program. Canadians spend most of the time on the internet; they are ranked 2nd in Internet penetration rates. The Internet and Wifi are everywhere in Canada means no connectivity issues whatsoever. No matter what's happening around you, good or bad, you always want to stay connected with your friends and family, especially when you are visiting this far.
Now, why is it that important? As a student, you want to access specific data and info for research and study purposes. Apart from the internet, universities allow students to learn different tech in diverse fields to stay industry-focused and updated.
5. Enjoy the quality of life
The hot study destination nation Canada is one of the most welcoming countries in the world. The U.S. News & World listed Canada in their Best Countries Rankings list in 2020. Ask any student how they feel about the quality of life. They say it is genuinely crucial. Imagine you have proper housing, transportation, employment opportunities, technology, and security facilities in place. You would for sure feel more secure, a little worry-free, plus mostly happy.
On the other hand, Canada is a well-developed country with good safety and security, rich nature, political stability, and more. Furthermore, people visit the country and decide to stay in the country and eventually become Canadian citizens.
For an international student, safety and security will and should matter the most. From that particular perspective, Canada is one of the safest countries in the world. People legitly enjoy a good life in Canada with all the provided amenities. And for this big reason, Canada becomes a serious option for students worldwide, and you may definitely want to consider it for sure.
6. Low cost of study and live
This is a huge reason why many students show so much interest in Canada. Many universities cost very fewer tuition fees compared to other English-speaking nations. We have another blog speaking 13 things you need to know about study abroad in Canada; click here.
7. Enjoy the diverse cultural ride
Studying abroad is not only about books, education, grades, and job. It's way more than that. As discussed earlier, Canada has a diverse culture; we want to emphasize what you can actually witness there. Note that every experience counts in this big journey.
Montreal International Jazz Festival:
With 2 million hitting the city's streets, the Montreal International Jazz Festival is pure bliss for music lovers. This Festival brings together the whooping talent of 3,000 artists from 30 countries. Do watch out for this festival in case you are in or planning to go to Montreal.
Calgary Stampede
It is one of the largest outdoor rodeos in the world. And every time it happens, the crowd won't be less than 1 million in number. And the whole city turns into a big party with smoking barbecue, pancakes, western flair, and chanting people.
The rocking Hockey
No one, literally no one, misses hockey in Canada because hockey is exceptionally famous and religious in Canada. The game generally takes place in May with eight teams, namely Montreal, Toronto, Vancouver, Edmonton, Calgary, Winnipeg, and Ottawa. Try and attend any game during the playoffs to experience the thrills and chills of the game.
The yummy poutine
The annual Poutine Week is a pure pleasure. It's a fine dish with delicious French fries, gravy with cheese curds, and tourists love it, and you'll love it too.
Canada is 2nd largest country in the world with rich natural resources, culture, and a lot of diversity, in-fact a perfect country to study abroad. At last, all we want to say is whatever the country it is all you need is the right education. In that way, we are always here to help you. Just sign up, get in touch with our expert and get answers. And more of such content and info keep in touch. We silently ping you ;), until then see you all.