While growing up, at least once we'd have dreamt to study in the USA and step into the magical land. Why are people so in love with this nation? What's so special about it? Maybe it's because of the academic excellence provided there is one of the best in the world. Maybe it's because of our relatives or friends who are settled there. Maybe it's because of how pop culture and movies have continued to glamorize the country that it is.
Although so many envisioned studying there for graduation or for higher studies, only a sizable number of us have the grit to take forward our dreams of studying in the USA. If you are reading this blog right now, we're hoping you are one of the few who've decided to take the step and get graduated in one of the most modernized countries in the world.
How Many International Students Are Studying In USA?
Although the trends are slowly shifting towards Canada and the UK now, for decades, the USA remained the most popular destination to study for international students. California, New York, and Texas are where most international students are getting graduated.
Apart from just studying, international students contribute to the ever-growing local economy of the United States.
The top countries from which international students are in the USA are, China, India, South Korea, and Saudi Arabia, followed by Canada. When it comes to visas, international students are usually admitted with student visas: F visas to those who opt for university, graduation, etc., and M visas for students willing to attend various vocational courses.
➡️ Read: Getting a work permit in the USA after graduation
10 Benefits Of Studying In USA
The highly rated universities, post-graduation work choices, and various course options are among the many benefits of studying in the USA. In addition to these, the job opportunities and the professional connections you make during OPT period – provided you are passionate enough about your pursuit – are enough to settle your career. Below, we've listed the top 10 benefits of studying in USA for international students.
World-Class Universities
Enlightening Exposure
Academic Proficiency
Multiple University Options
Career Opportunities
High Paying Jobs
Excellent Faculty
Personal Development
Campus Life
Explore The Country
We've helped 1000s of students reckon and realize their American dream. If you are one amongst those who need a little bit of push – in the form of professional advice, suggestions, understanding universities, and more – get in touch with us right away and then continue to read the blog.
World Class Universities: Better education. Better career. Better life. Undoubtedly, this has to be the top reason why students from across the world choose America for education. Apart from renowned mainstream universities like Princeton, Harvard, Stanford, and more, where getting admission is not easy. There are many more universities that offer stellar education to all students.
➡️ Check out some of the best universities in the USA
Enlightening Exposure: The USA's approach to cater career-oriented training to students prepares graduates for jobs also, so when they enter work, they know what to do. And this gradually places them on a higher pedestal when compared to their peers at work.
Academic Proficiency: When it comes to high-quality education, the USA stands strong for having top-class technological amenities blended with education, highly qualified faculty, and more. The US ranks 14th in the world for providing education that empowers.
Multiple University Options: There are public universities. There are private universities. There are community colleges. There are vocational courses. The options are umpteen, and so are the courses. You can choose based on your skill, budget, and convenience. Know what's the difference b/w public and private universities.
Career Opportunities: Securing your career can happen right after you graduate. With OPT (Optional Practical Training), the 1-year work authorization that F1 Visa International Students get to seek employment in the USA is a blessing in disguise. Some of the benefits for OPT students include working in your chosen academic field, working with the largest companies in the world, you can network and make professional connections, and this OPT experience will increase prospects of getting a reputed full-time job.

High-Paying Jobs: All you need to get is a proper graduation and your life can transform. Not in a magical way though, you gotta work for it. Let the stats speak. The average salary for a Software Developer is $103,560, and Health Care Workers are $208,000.
Excellent Faculty: Teachers in the USA do not just educate students, but they also encourage students with research, casual interaction, career guidance, and coursework on a daily basis. Right from the start, faculty have a deep interest in the success of every student and offer a deep commitment to your educational journey.
➡️ Read: Know about the USA application process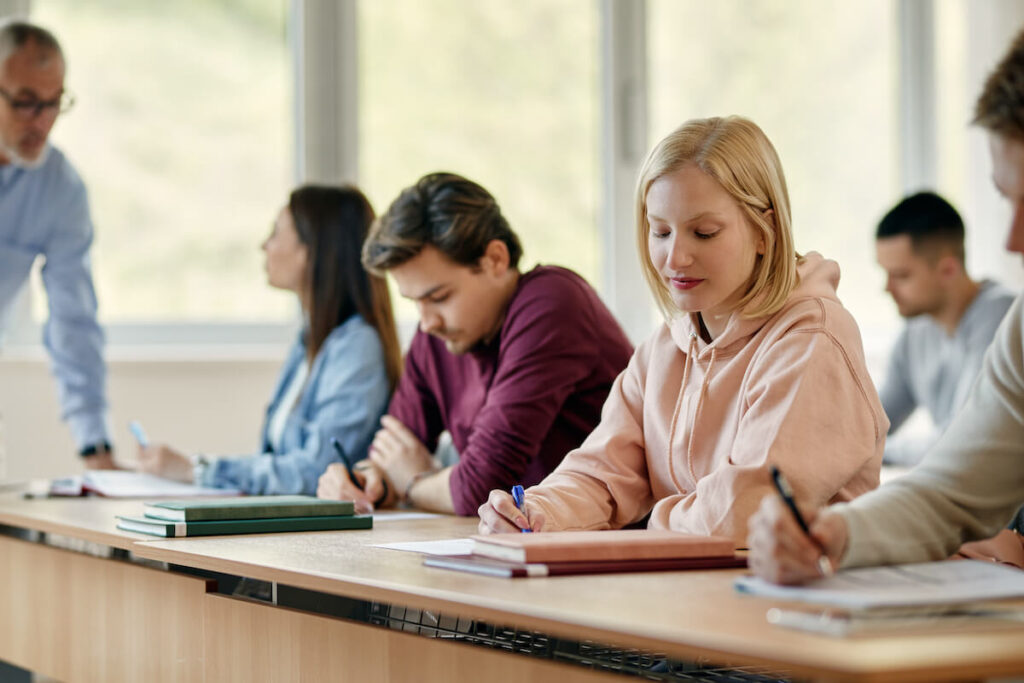 Personal Development: Does a degree alone guarantee you a well-paying job? No, you need more skills. From communication to problem-solving skills and how you work as a team player… Studying in the USA with people and faculty will help you understand newer perspectives in looking at things. This inline will fine-tune your professional outlook in a positive way.
Campus Life: With an intuitive blend of cultures and people, you will get plenty of new experiences every day. Let it be food, entertainment, or planning your career – each student will get a vibrant student life in USA. Make new friends. Eat new food. Roam new streets. Cherish every moment of your campus life in the USA.
Explore The Country: Those mystical mountains and mighty amusement parks. That spellbound sightseeing and sparkling city lights. As much as you study, it is also necessary to explore and experience the country to its fullest. But just make sure you always remember the reason why you came here.
Conclusion
The USA is well known for being a welcoming nation for international students. And that is why so many choose the USA. A degree from a top or emerging university in the USA is respected across the world.
Studying in the USA makes you ready to face the future with more confidence. The fine teaching coupled with modern technology places you far ahead in terms of life and career.
With students from different backgrounds and diverse goals, the USA is the best place to gain lots of knowledge, get international exposure, and greet your dreams.
The pathway to study abroad in the USA is easier if you have the right mindset and the right people beside you to guide every step of your journey – from choosing universities to securing admission.
There are lots of scholarship options for your perusal too. Do you want to know more about what scholarship you can apply for and need professional help to study abroad in USA? Wherever you are in the world, we are a call away from helping you succeed. Talk to us.