For a long time, students who wished to go abroad either had to (and are still) take IELTS and TOEFL to assess their English proficiency. However, off late, there has been one more exam that is garnering attention – for all the right reasons though – and Duolingo it is.
Another reason why this test has been gaining popularity is the fact that due to the pandemic, test centers for taking IELTS and TOEFL have been mostly closed to stop spreading the surge of the virus. And aspirants have been clinging onto Duolingo to make their abroad dreams see the light of day.
Education is an integral part of securing our future and the process should not be stopped, no matter what. However, so many found a better alternative in Duolingo Test to take them a step ahead in seeking one-go from universities of their choice, based on compatibility.
What is the Duolingo English Test?
Duolingo is 60 mins. online-based test to certify the English proficiency of students who wish to go abroad to pursue their education.
Similar – in some ways – to IELTS and TOEFL, Duolingo English Test assists both students and universities to understand and know where they stand, in terms of claiming their knowledge in English; as it is the basic and most spoken language in countries like the USA, Canada, UK, Australia, and more, which are some of the most sought after countries by Indian students who are willing to study abroad.
What is the Duolingo English Test Format?
As the world went into a complete lockdown, more and more people, institutions, and companies across the world started to embrace online and get things done, quicker, from wherever they are.
Similarly, Duolingo Test can be taken from anywhere – for $49 (plus applicable taxes) – as long as you have a stable internet connection at your place, along with a few other requirements we have briefed below.
What is the duration of the Duolingo Test? 60 minutes only.
The first five minutes into the Duolingo Test, you'll be introduced to the know-how of the way this test works. Once that is done, your virtual screen is moved over to the next category.
What follows for the next 45 minutes is a different set of questions to examine your English proficiency in listening, reading, writing, and speaking. However, one important thing that aspirants have to note is that as every question moves on, so does the complication of questions that are about to arrive.
Once you are done with this 45 mins section of questions, you'll proceed to think and write about a topic that they will be giving you. And the time you are allotted for writing this would be somewhere around 3-5 mins.
Now that almost 50 mins of the test are over and with just a little more left. The last 10 minutes will be a need to answer questions on the screen and this is to ascertain your vocabulary and how well you communicate in English.
Note: Another prime thing to take note of is that, after your adaptive test, it is compulsory to attend the video session and the written test. However, these two results will not reflect in the final score.
But might be made available to the universities that get your results for them to understand how well-off you are with the language.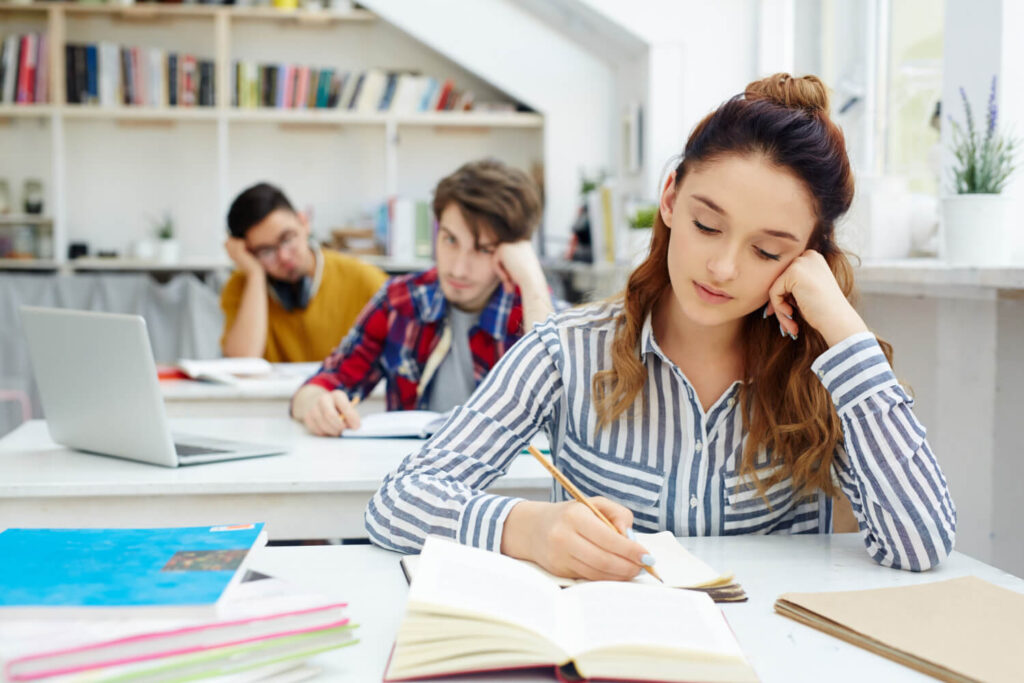 What are the requirements for the Duolingo English Test?
Let's break down this category into two and explain to you in simple ways the little requirements that are expected for the Duolingo English Test.
Personal Requirements:
ID: It can be any Government Issued ID. For Indians, maybe IDs like Aadhar, PAN Card. Or it can also be your passport or driving license.
Room: Ensure the room where you are attending the exam is silent and is lighted up to ensure you are on the brighter side.
Time: There won't be any breaks during the course of the Duolingo English Test and you are expected to spend 60 minutes on it.
Internet: Please ensure that you have a good and stable WiFi connection so there wouldn't be any disruptions during the Duolingo Test. Although there is no such thing to attend with Mobile Data or using Mobile Hotspot, we request you not to do so.
Technical Requirements:
Computer: A laptop or a PC with Windows or macOS is a basic requirement for attending the Duolingo English Test.
Camera: Make sure your laptop or PC has a camera as you'll have to turn it on in the second half of the DET for an exam section.
Sound: Also, remember to check once before the exam if your microphone/earphones are working properly.
Speakers: Though we know this is a very basic point to quote. We want you to double check if the sound of your computer is good.
IELTS vs TOEFL vs Duolingo
| | | | |
| --- | --- | --- | --- |
| | TOEFL | IELTS | Duolingo |
| Cost | $185* | $149* | $49* |
| Mode | Offline/Online | Offline/Online | Online |
| Duration | 3 hrs (Approx) | 3 hrs (Approx) | 1 hr |
| Results In | 10 days | 14 days | 2 days |
| Format | Reading, Listening, Speaking and Writing | Reading, Listening, Speaking and Writing | Reading, Listening, Speaking and Writing + Video Interview |
Have more doubts? Get on a consultation call with us now.
Advantages of Duolingo English Test
Thousands of universities across the world are accepting the results of the Duolingo English Test and more universities are only set to join in the times to come. Serving as an alternative to IELTS and TOEFL, this Duolingo English Test has helped so many abroad aspirants secure better strength in their admission process over the last couple of years.
The best part about the Duolingo English Test is you can take it from anywhere – irrespective of wherever you are – as long as you are ready to take the test and have a good WiFi connection. You don't even have to travel elsewhere for writing this exam.
Another advantage is the time. Duolingo English Test lasts only for an hour and results will be gotten in around 48 hours after completion of the exam.
To give you a little gist, 3500+ universities across the world are accepting the marks of your Duolingo English Test. Have no worries if this is a legitimate test. Because it is.
You can check online the list of universities accepting the Duolingo English Test and you can send to "n" number of universities your score to see if you have a chance there.
The options are aplenty for you to supercharge your dreams of studying abroad. All you need is the right preparation, right mindset, and right people by your side. If you need professional assistance in any of these – we are just a call away to help you, like how we assisted 1000s of students in finding courses and universities abroad.
Quick Recap: Benefits of Duolingo Test
Send test scores to unlimited colleges
Attend from anywhere you want
Cost-effective alternative exam
Comes only at a cost of $49*
Exam duration is just an hour
Get results turnaround in 48 hours
Accepted in over 3500 universities
Do you have a few more about this test or studying abroad? Talk to us and we'll make your process hassle-free. You take care of the studying part while we figure out the rest for you.