The United States of America has long been seen as the gold standard for higher education. Accreditation for these degrees is widespread, and the educational structure is adaptable to individual needs. But the first thing that crosses students' thoughts is the price of MS in the United States. Many overseas students dream of studying in the United States and earning a Master of Science degree.
In the United States, earning a master's degree typically takes two years. Thus funding should reflect that. Those considering an MS program in the United States will benefit from this information. We have already spoken about how much money international students need to study and live in the United States. Because tuition is the most expensive part of studying abroad, we've broken down the total cost of getting a master's degree in the United States into its components for you here.
The cost of getting an MBA in the United States is higher than getting a master's degree there.
Learn more about the colleges and institutions in the US that provide Master's degree programs, as well as their tuition rates and other specifics.
Factors determining the cost of studying M.S. in the USA
It costs around Rs 30.27 lakh (about $60,000) every year to get a master's degree in the United States. The total first-year cost comes to Rs 22.25 lakh and consists of tuition ($8,0250) and living costs ($22,250).
● Application Fee: Application fees may range from free to several hundred dollars, depending on the program and the school. Initiation fees range from $50 to $200. Your application fees might include a variety of other costs. If you don't provide your TOEFL and GRE results, your application will be incomplete. The average price of a college application is $110. So, the total cost of the US Master's Degree is $1100 if you want to apply to ten schools.
● Entrance Exam Fee:
List of exams required to study in the USA with the fee details-
| | | |
| --- | --- | --- |
| Cost parameters | Amount in USD | Amount in INR |
| TOEFL entrance exam costs | $180 | ₹12,600 |
| GRE entrance exam Fee | $205 | ₹15,200 |
● Tuition Fee: The expense of an American master's degree is a major factor in choosing to study there. An Indian student's yearly tuition for an American master's degree may range from US$20,000 (approximately Rs15.80 million) to US$65,000 (about Rs51.38 million).
● Airfare: The regular ticket for a single-way flight is $675. Depending on factors including fare class, location, city, and airline, a one-way flight might cost anywhere from INR 40,000 to INR 70,000.
● Cost of Living: Location, the number of people sharing an apartment, and the unit's square footage affect the monthly housing expense. The typical monthly outlay for one person's necessities is between ₹48000 and ₹97000. It follows that ₹120000 is the median cost of living during a two-year master's degree.
Entrance Exam Requirements & Fees Involved
● GRE: First, you must take the GRE. The Graduate Record Examination (GRE) is often necessary for admission to master's degree programs. The GRE costs ₹16700 to take. Retaking the GRE will cost you another ₹16700.
● GMAT: The Graduate Management Admissions Test (GMAT) is an option for college entrance. A high Graduate Management Admission Test score is a crucial factor in being chosen. The Graduate Management Admission Test has a ₹20300 fee.
● IELTS/TOEFL/Duolingo/PTE: U.S. colleges and universities recognize IELTS. IELTS requirements vary widely per university. IELTS costs ₹16299– ₹20300.
The US uses English. This test determines your US master's degree eligibility. Students futures depend on their EFL test scores. The English as a Foreign Language exam in the US requires an 80. The TOEFL costs around ₹14600.
Best Affordable Universities for studying M.S. in the USA
Listed below are some of the most reasonably priced US universities:
1. St. Francis College
St. Francis Institution (SFC) is a private college in Brooklyn Heights that has been around for more than 160 years and is known all over the world for its high-quality education (New York).
· M.S. Tuition fee – ₹36673/Credit hour
· IELTS – 6
· Duolingo – 95
· TOEFL iBT – 70
· GRE not required
· Application fee waiver
2. Alderson Broaddus University
Alderson Broaddus University is a Christian institution of higher education located in Philippi, West Virginia's Tygart River Valley. The university has provided higher education to its ethnically and racially diverse student body for nearly 150 years.
· M.S. Tuition fee – ₹40748/Credit hour
· IELTS – 6
· TOEFL: PBT – 550, iBT – 79
· Duolingo: 95-100
· GPA – 2.5 and above
3. University of West Los Angeles
The education offered at the University of California, Los Angeles is widely recognized as among the best in the country. This is especially helpful for students who have other commitments yet still want to further their education. Since its inception in 1966, this has been the organization's overarching mission.
· M.S. Tuition fee – ₹55336/Credit hour
· IELTS – 6
· TOEFL: PBT – 527, iBT – 71
· GPA – 2.7 and above
4. University of Cumberlands
The Cumberlands, home to the University of the Cumberlands, sits right in the Appalachian Mountains. With over 18,000 students, Cumberlands University is one of Kentucky's largest and most reasonably priced private institutions. The school has made it its mission to provide students with cutting-edge coursework and real-world experience.
· M.S. Tuition fee – from $₹40748/Credit hour
· IELTS – 6
· TOEFL: PBT – 550, iBT – 79
· GRE/GMAT – 293
5. Campbellsville University
Campbellsville Institution, established in 1906, is a renowned Christian university in Campbellsville, Kentucky. The institution promotes personal development, integrity, and professional readiness in a caring atmosphere via liberal arts-based academic success.
· M.S. Tuition fee – from ₹40667/Credit hour
· IELTS – 6
· TOEFL: 79 – 80
· Duolingo: 95
· GRE/GMAT – 292
·  GRE not required if GPA is more than 3.0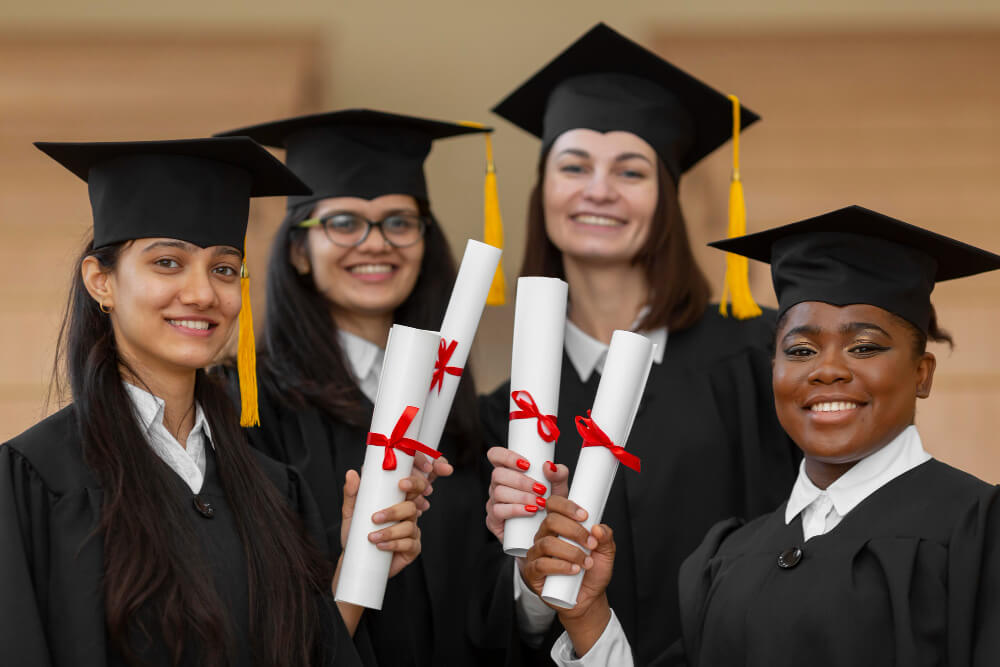 6. Faulkner University
Faulkner University is a Christian liberal arts college in Montgomery, Alabama, to foster intellectual growth and personal maturity in its undergraduates. The mission of the Faulkner Institute is holistic development.
· M.S. Tuition fee – ₹46453/Credit hour
· IELTS – 5
· TOEFL: PBT – 500, iBT – 61
· Duolingo: 95-100
· GPA – 2.5 and above
7. Judson University
Judson University is a Christian college in Elgin, Illinois, northwest of Chicago. Their LEED Gold-certified 88,000-square-foot Harm A. Weber Academic Center houses their library, School of Art, Design, Architecture, and other facilities.
· M.S. Tuition fee – from ₹61123/Credit hour
· IELTS – 6.5
· TOEFL: PBT – 550, CBT – 213, iBT – 79
· GPA – 3 and above
How much it would cost to study in top-ranked universities in the USA
The cost of attending a college or university may vary widely from one institution to the next and even within the same program.
Below are the tuition and fees for some of the best universities in the United States:
| | |
| --- | --- |
| University Name | Average Cost for one year |
| Massachusetts Institute of Technology, US | ₹4356000 |
| Stanford University, US | ₹4715000 |
| Harvard University, US | ₹3912500 |
| California Institute of Technology, Caltech, US | ₹4279100 |
| The University of Chicago, US | ₹4059500 |
Frequently Asked Question about the cost of M.S. in the USA
1. What are the things included in living expenses while studying M.S. in the USA?
Monthly costs in the United States are around ₹81355 to 122000 or an annual total of approximately ₹813550 to ₹1464300. Room and board, food, transportation, literature, clothes for all seasons, and leisure activities are all included in this total.
2. What is the average tuition fee for an MS course in the USA in Indian Rupees?
Annual tuition for a Master of Science degree in the United States is typically between ₹32,54,210 and ₹65,08,420.
3. How to select the best university for M.S. in the USA?
HUB is the finest university since it may be difficult to choose which schools are the greatest fit for your desired major. This is greatly simplified by University HUB. The best colleges in the world are within reach for overseas students because to our state-of-the-art education technology platform.
4. What are entrance exams for M.S. in the USA compulsory?
The Graduate Record Examination (GRE) is required for admission to almost all Master's degree programs in the United States, including management studies. In addition to a passing score on the GRE General Test, several schools additionally require students to take individual topic examinations.
5. How to apply for M.S. in a US university?
· Prioritize Colleges by the Time Limits You Set
· Essential Qualifications
· Take Part in Standardized Examinations
· Create a System for Applications
· Apply
· Wait for the confirmation letter and then apply for a visa.
6. Are there any Universities that waived off GRE/GMAT requirements?
Purdue University, the University of Dayton, Cal State Long Beach, the University of Bridgeport, the University of Cincinnati, St. Francis College, Campbellsville University, and many more.
7. Are there any scholarships available for International Students?
Yes, St. Francis College offers M.S students a grant for $6,800, which is Rs. 553216.
Conclusion
Managing college education costs may be difficult, but scholarships and grants can help. Financial assistance is only one of many choices open to students (to be mentioned during application submission). Institutions of higher education in the United States provide various financial aid opportunities, including scholarships. Scholarships vary in grant amount and kind of support provided by the institution.
University HUB has a lot of college options for you if you are still feeling overwhelmed by the prospect of pursuing a master's degree in the United States.